Building a network of partners through the "Collective Impact Model"
We believe that a large-scale social problem can be solved only through intersectoral, long-term commitment and collaboration on a shared agenda. From the beginning, CI established a network of stakeholder partners from the various sectors—government, NGOs, Arab society, business and philanthropy - each with representation on CI's Board of Directors and organized into several working forums.
President Herzog's "Israeli Hope" Initiative
Co-Impact has been chosen by Israel's former President Reuven Rivlin as a partner in promoting Arab employment. After being elected last year, the new President Isaac Herzog decided to continue the fruitful partnership with Co-Impact. This partnership includes close and ongoing contact with the President's team to work on joint visits, meetings, and events supporting Arab employment. Co-Impact hosts an annual Employers Conference in partnership with the President, where Co-Impact companies present their progress towards a breakthrough in Arab employment to the President.
Ministry of Social Equality
Co-Impact is a joint initiative in partnership with the Economic Development Authority of Arab Society in the Ministry of Social Equality. This partnership includes strategic consultations, common goals and a joint vision of a breakthrough in Arab employment in Israel's private sector. We are partners in our joint actions and also in believing that the economic development of Arab society will lead to tremendous growth in the general Israeli economy.
The Ministry of Social Equality and Co-Impact co-finance the in-depth work in business companies – on which the work infrastructure is built, which creates the desired in-depth change in the companies. We believe that our joint work will benefit both Arab society and society at large, now, and in the long-term.
Business Council and Forum
With the establishment of Co-Impact we initiated the formation of a large Jewish-Arab Business Forum, made up of 400 Arab and Jewish business leaders. In 2014, Co-Impact was chosen as the flagship program of "Israeli Hope in Employment" – and as part of this partnership, the Business Forum and President Rivlin established close ties. The members of the forum are invited twice a year to the President's Residence for a meeting in which they bring the employers' perspective to the table.
In 2019 Co-Impact established a smaller, committed, and strategic Business Council, comprised of 100 of Israel's most influential business leaders. The Council accompanies Co-Impact in strategic thinking and is the public face of Co-Impact – sharing the employers' perspective regarding needs, challenges and opportunities, reaching Arab candidates and providing a public backing, specifically in times of crisis in Arab-Jewish relations in Israel.
The Business Council members identify with Co-Impact's vision of equitable and appropriate employment for Arab society in the Israeli business sector and together we strive to achieve this.
Business Council Leadership:
Ofra Strauss – Business Council President
Reem Younis – Co-Chair
Oded Gera – Co-Chair
Co-Impact's Mentoring Program pairs Jewish CEOs and senior management with Arab mid-management employees. The program creates a mutual process between the mentor and mentee, builds personal and business connections advancing opportunities for networking for Arab employees and for better understanding of the Arab community for Jewish managers. The personal ties formed between mentor and mentee are of great value in changing attitudes, defying prejudices, and building personal and business connections.
The program is a year-long framework that consists of one-on-one meetings between matched mentors and mentees once a month. During the year there are preparatory courses for new mentors, learning sessions for mentees, and a full program gathering. Co-Impact was chosen as a flagship program of President Rivlin's "Israeli Hope Initiative" and the mentoring pairs meet with President Rivlin once a year, as part of his involvement and support of Co-Impact.
As part of our "collective impact model", where all stakeholders work together towards a common goal, 40 NGOs in the field of Arab employment have partnered with Co-Impact to work together and find solutions towards promoting Arab employment. These NGOs share Co-Impact's vision and complement our actions in training potential Arab candidates, promoting shared society, encouraging higher education for the Arab community and acting towards diversity at large. The NGO Forum represents Arab society in cross-sectoral discussions (business, public, NGOs, philanthropy) and carries out community activities in the field of employment.
NGO Leadership Forum: Shared Tool Development Program
The NGO Forum is led by the NGO Forum's leadership team, composed of 12 leading NGOs in the field: Abraham Initiatives, aChord Center, Ajeec, Alfanar, Appleseeds Academy, Be'Atzmi, Hasoub, itWorks, Kav Mashve, Living Together, Sikkuy, and Tsofen.
In 2018, the NGO Forum mapped the tools and services most lacking in the field, and formed a strategic plan for the division of responsibilities and implementation of effective joint workplan to develop these tools. The strategic thinking of NGOs, division of responsibility and sharing of knowledge, has led to joint fundraising and the ongoing development of numerous tools and services, and their application in the field.
The role of academia in leading socio-occupational change is highly significant.
Co-Impact guides academic institutions in leading two significant processes: First, becoming diverse employers, promoting Arab employment in their own institutions. Second, we assist academic institutions in providing their students and graduates from Arab society with employment opportunities and tools, and in promoting them as potential candidates for placement in Co-Impact's core companies.
To achieve these goals we collaborate with many partners, including the NGOs Tsofen and Kav-Mashve, President Rivlin's "Israeli Hope" initiative in academia, The "Next Step" program for internships, and with specific student clubs and entities in each institution.
In order to become diverse employers we guide academic institutions as we do our business companies; together we set placement goals for hiring employees from Arab society. We also provide tools and guidance to generate the organizational changes needed to reach and hire candidates from Arab society and to create a more shared workplace, in which all employees can thrive.
In order to link students and graduates from Arab society with employment possibilities, we have created graduate databases, Arab student forums in each academic institution and a National Academic NGO Forum.
Academic institutions partnering with Co-Impact:
Together with many partners in the academic field, Co-Impact facilitates activities which directly link relevant faculties with employers – employment conferences and fairs, and "spotlight days" where students meet companies' HR representatives and employees from Arab society.
 We also connect students and graduates to specific workshops and tools and to open positions in the companies we guide.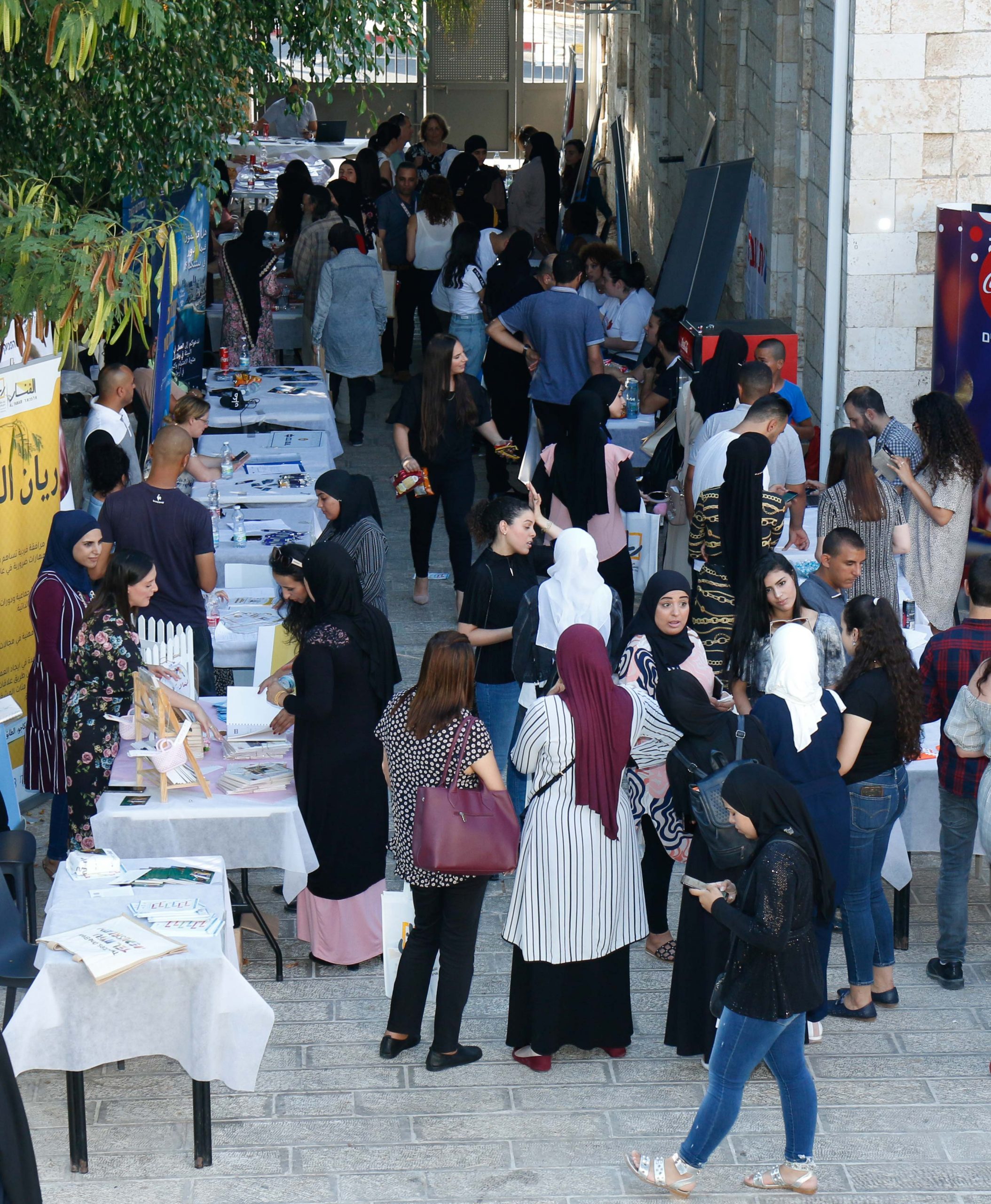 Local Arab Municipalities and Communities
Partnership on the local level with the Arab community is essential in promoting social change and a breakthrough in Arab employment. On the local level, Co-Impact works vigorously to create local "collective impact" processes, joining all stakeholders in a dialogue to promote Arab employment. The local roundtables lead to the formation of professional collaborations, connections to Co-Impact's employers, local employment fairs as well as capacity building, and development of local programs towards enhancing Arab employment.
Connecting with the communities has provided Co-Impact with a deeper understanding of the needs and challenges that exist in the field and has allowed us to develop appropriate work plans at the local level, which are  based on cultural sensitivity, local assets and needs, empowerment and community activism.
On the local level we guide the mixed cities Yaffo,
Lod-Ramle and Akko. The Arab local municipalities we work with include Kfar Qasem, Umm-al-Fahm, Kfar Qara, Jaljulia, Tira, Jatt, Jisr az-Zarqa, Kfar Bara, Taybeh, Yafia an-Naseriyye.
The leading and innovative Co-Impact Club is home to influential and growing young Arab leadership. The Club, which has almost 300 members, serves as a think tank, project originator and social network. The Club consists of managers, academics and young entrepreneurs who see the advancement of Arab society as their personal purpose. Members of the Club are at the forefront of their fields and have succeeded, each in their own way, in breaking an employment glass ceiling and are interested in generating possibilities for more young Arab talent to do the same.
The mixed city of Lod connected with Co-Impact to realize a shared vision of integrating Arab academics from Lod into the general labor market. As we began working together, other NGOs and social activists from Lod joined, thus forming the "Lod Employment Coalition". The coalition's purpose is to promote employment and integrate employees from the city of Lod into the leading business companies which Co-Impact guides. Through the coalition's actions we have held a Lod employment conference and fair and carried out a yearlong program for Lod's Arab academics regarding the world of employment. Through this new collaboration, the issue of employment of the Arab community in Lod has become a priority for all the city's stakeholders. I highly recommend partnering with Co-Impact, who I see as experts in promoting the essential field of Arab employment.
Lod City Council Member
Fidaa Shehade
During 2019, Co Impact initiated a multi-sectorial partnership in Kfar Qassem , consisting of local NGOs, the municipality and national organizations related to Arab employment. The forum, called "منتدى الهمم القسماوية, " Monthada Elhamam Alksmawi – which means Kfar Qassem Gathering included several municipal departments, the commmunity center, Alkalem, Salsbil, Dia'Alearfin, the NGO Be'Atzmi, the student union and many other bodies in the city. The forum aims to create awareness about quality employment and integration of Arab employees in the employment market in general and in Kafr Qassem in particular. this new joint venture received enthusiastic reactions from the residents and placed the subject of employment in local headlines. An employment fair and conference resulted from the Forum's activity. The partnership with Co-Impact is significant and strategic in order to continue increasing and improving Arab employment in Israel.
Hamam Forum Casmauiya - Kafr Qasem